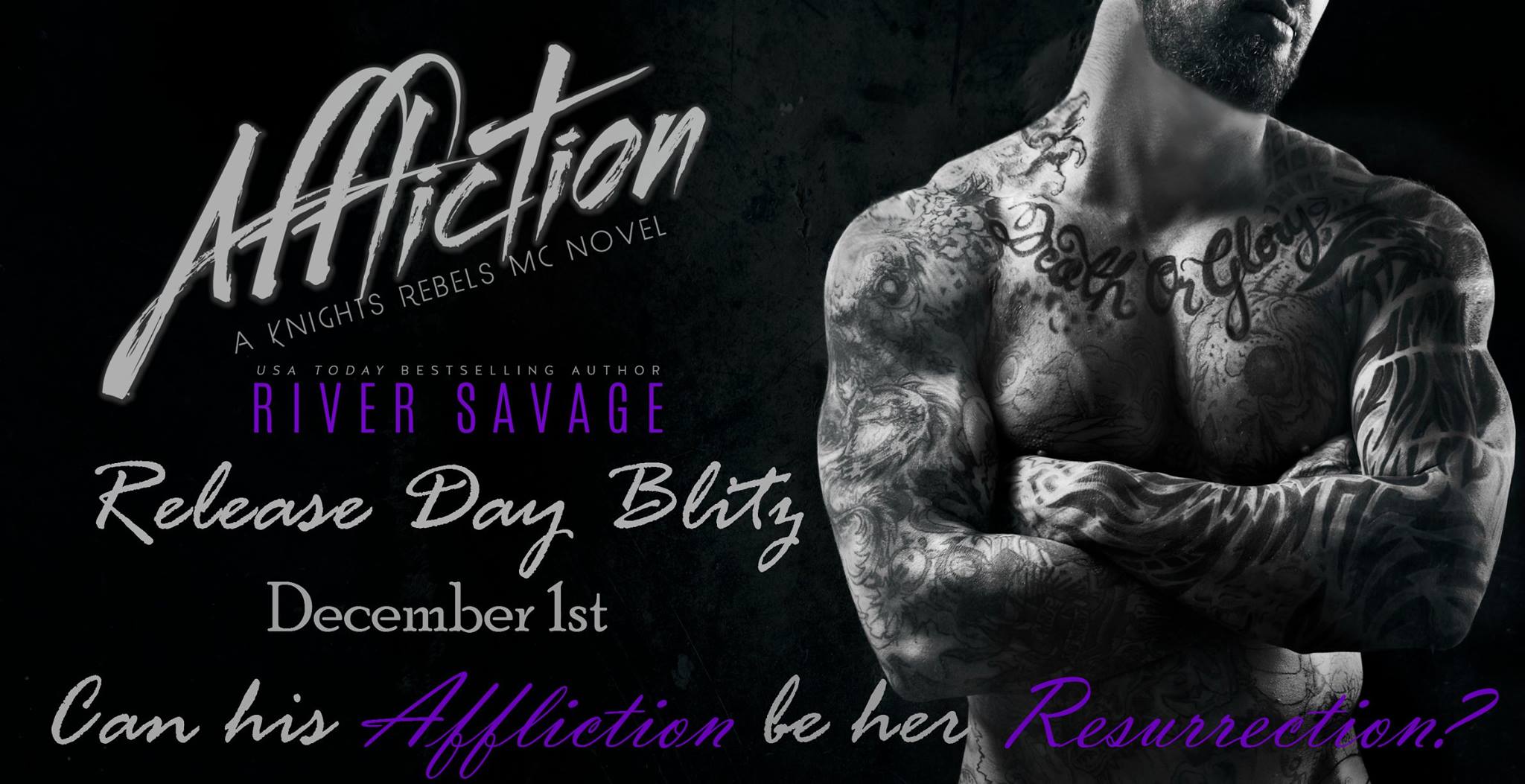 Title: Affliction (Knights Rebels MC #2)
Release Date: November 30, 2014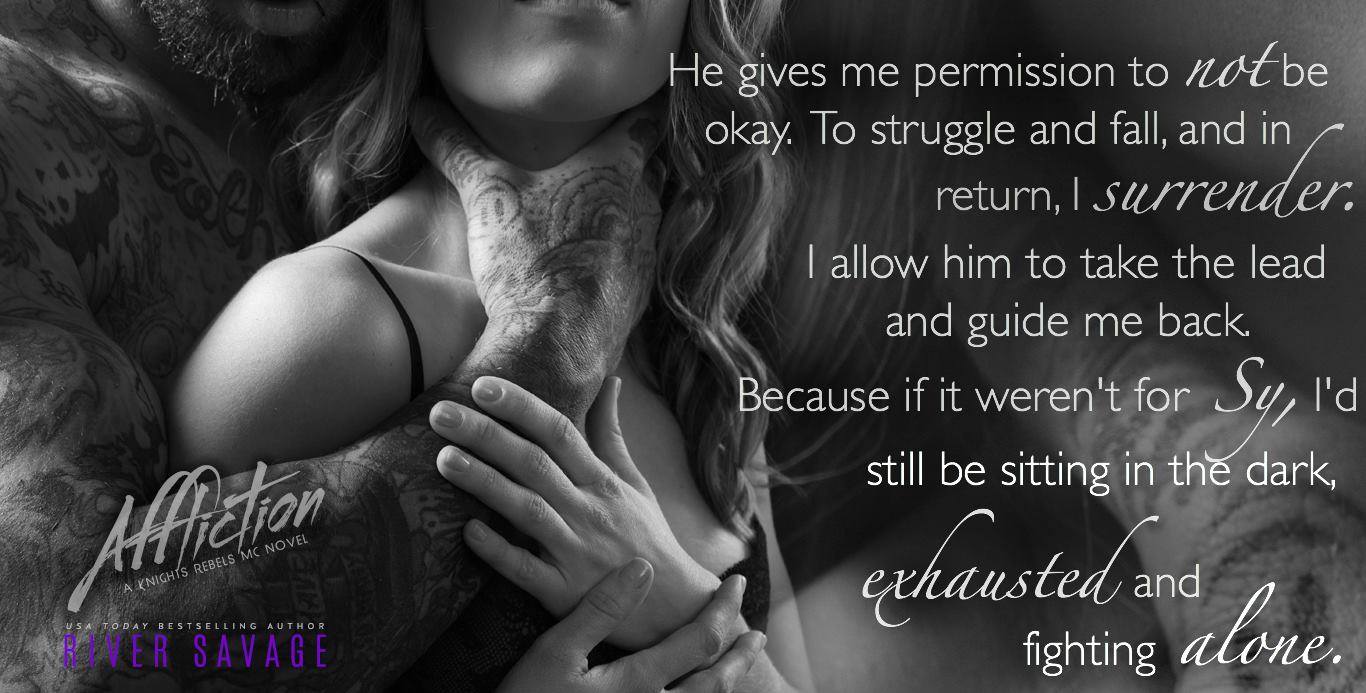 Three little words are all it takes to rip his world apart. Lost in his own affliction, Sy has been living in a darkness that he doesn't ever want to let go of. Until she arrives and shines her light so bright that nothing else mattered.
She was only in it for the chase, for the thrill of capturing the unattainable. But what happens when her world shatters around her, spiraling her into the darkness beside him? Can his affliction be her resurrection?
Or will two lost souls living in the depths of deception let it destroy them?
 
***
If you like your romance novels HOT (HOT!!) with a roller coaster ride of experiences and that, "I can't put this down," feeling, then don't wait, RUN to get your copy of Affliction. This book had us sitting on the edge of our seat from the moment it started. The sex scenes are passionate and intense and leave you drooling for more. The emotions are real, palpable and intense. The bond you get to witness growing between the two main characters is deep, caring and refreshing.
Sy, the hero, is both hard and soft in all the best ways. He's the personification of sex on a stick and will make you yearn for every moment spent with him in the book, whether it's an intimate scene or just getting to know his character.
Holly is raw, real and sensual. The ride with her is intense, sometimes funny, sometimes achingly sad, but by the end we felt so connected to this heroine we just didn't want the book to end.
We LOVED the book and know you will too… beware though, this is the kind of book you don't want to start reading on a Monday night, you may end up calling in sick on Tuesday… :- )
"What the f**k are you doing in my club?" he asks again, moving his body closer.
"Your club?" I ask, raising my brow. "Last time I checked, I came here with my best friend, not to see you, so if you'll excuse me," I say, trying to push off the wall, but he steps right in, his knee coming between my legs.
"You gonna f**k him?" he growls, his eyes growing angrier by the second.
"Maybe," I tell him, knowing he's talking about Jesse. "I wonder if he will leave me standing naked after a quick f**k up against the wall," I continue. His hold on me gets tighter. I know I shouldn't tease him with my words, but he's seriously delusional if he thinks he has any claim over me.
"I knew you were a tease, but I didn't know you wanted to be a club whore," he replies, and I try not to let his words sting.
"Are you done?"
"Are you?" he counters.
"You left me standing there. I didn't fu**ing do anything. What are you so angry about?"
"You coming into my club, throwing yourself at one of my brothers."
"Jeez, get over yourself, Sy. Jesse was just showing me around the place. And if I decide I want to have sex with him, or anyone else for that matter, I'll do what I want. You don't fucking own me. You had me, fine, but it was mediocre at best, so keep your hands off me," I snap, trying to get out of his hold.
"Mediocre?" he repeats back to me. I'm so pissed at his attitude I don't falter in repeating it.
"At best."
Previous Books in the Knights Rebels Series
 Title: Incandescent (Knights Rebels MC #1)
Release Date: August 11, 2014
Add to your TBR: Goodreads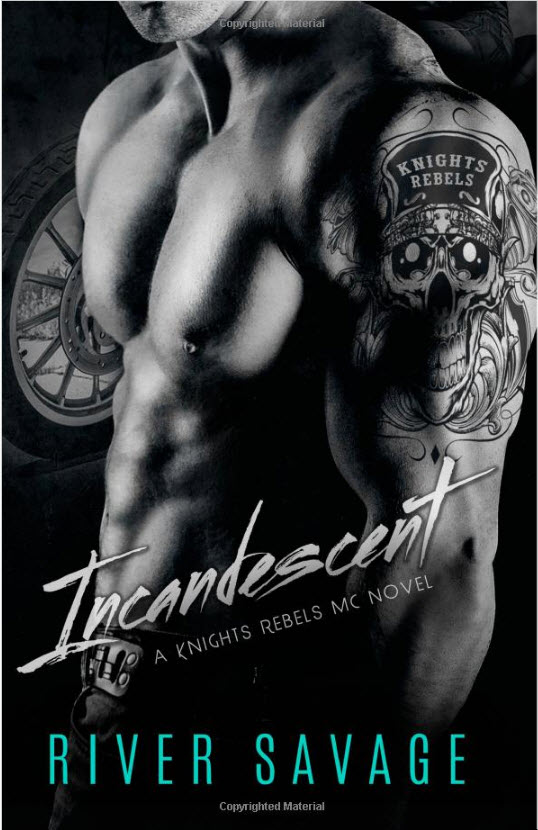 Buy Links: 
Phoenix 'Nix' Knight thought pulling his club out of the illegal shit his Pops got them into was difficult.
Until he meets Kadence.
Kadence Turner has no business lusting over a student's father, especially the president of the Knights Rebels MC. Nix is crass, obnoxious and dangerously sexy and for some reason, Kadence can't seem to hate him for it. The bossy biker breaks down her defenses, but unlike the old Kadence, the woman she is today won't give in without a fight.
The tension is undeniable, the attraction fierce. A man that wants what he wants and a woman that will fight him every step of the way.
USA Today Best Selling Author River Savage is the author of the Knights Rebels MC Series.
An avid reader of romance and erotic novels, her love for books and reading fueled her
passion for writing. Reading no longer sated her addiction, so she started writing in secret. She never
imagined that her dream of publishing a novel would ever be achievable.
With a soft spot for an alpha male and a snarky sassy woman, Kadence and Nix were born.
River would love to hear from you. You can contact and/or follow her via…
…